All children need environments which support their development of speech, language and communication needs (SLCN); this can make a difference for typically developing children as well as those with SLCN. I would form a key partnership with schools, education centres or early years settings where I can work in the following ways: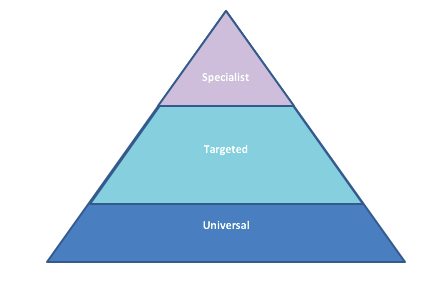 Universal service
All pupils attending the school or educational centre access the universal support I can offer. This runs across the whole school and involves:
Training for staff around the nature of communication needs and how to support these
Staff training around specific topics e.g. bilingualism, language development, selective mutism, ASD, etc
SLT being available to give advice to staff on request e.g. around adapting the classroom environment, differentiating educational activities or modelling strategies
Advice around improving the classroom environment i.e. visual resources, using gesture or signs and weekly support or 'trouble shooting' with issues that may arise.
In Early Years this is particularly important as all children are learning and acquiring the skills they need for communication.
Targeted and specialist service
In addition to this, some pupils may receive short 1:1 sessions, small group sessions or in-class support from either myself or a teacher trained by me. This type of input is driven by the provision required for your school population.
Speech and language therapy input  can be delivered through short or long-term blocks of intervention and supporting pupils with areas such as:
developing their understanding of spoken information,
improving their ability to express themselves using language,
recognising the feelings of others around them, and improving their ability to interact in different social situations.
working specific speech sounds
literacy skills
There is an additional charge for intensive 1:1 hourly sessions and this would be agreed between the parent and myself, to be carried out at school and paid for by the parent.
Packages of Care for schools should be tailored to their needs and factors such as school size, population, teacher training, etc need to be considered. I will therefore give individual prices depending on frequency and duration of visits.